Batavia

High School




Class Of 1965
UPCOMING BIRTHDAYS


Mea culpa
Happy New Year to all, belatedly.
It's been quite some time since I last edited our website, and with no excuse. I apologize. I had declared that I was going to officially retire on January 1st of this year after 45 years (to the day) as a sole practioner architect, plus 5 years working for firms in Boston after graduating from Syracuse. Actually the past 15 years have been self-declared semi-retirement as I made my way from Boston to upstate NY (Rochester). That sorta worked, but today I have more work than I had had in several years it seems, and most of it is back in eastern MA. Work (with construction) which will extend well in 2022! But that's no excuse.
I will now start tending to our Class of '65 website more diligently. Starting with recent losses.
Humbly,
Paul
This is the first of recent passings of members of our Class (December 30th).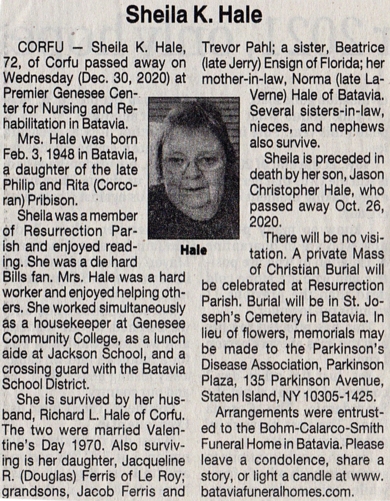 As I read her obituary I'm sure she was thrilled about the Buffalo Bills this year..... but didn't have to watch their defeat in the Super Bowl! Next year.
I know there was one other death of a classmate one of you reported to me a couple of months ago. I'm looking fo that email now. And I promised (last summer!) to start posting 50th Anniversary news!!!! I know of 3 and welcome any others you wish to divulge.
Remember when we were in school (a euphimism for younger) and we'd see photos in the Daily News of couples who were celebrating their 50th Wedding Anniversary? I just remembered how OLD they looked, and they dressed so 'funny'.
For those of you who have made it, Congratulations! And seeing some of you today, in person or recent photographs - we don't look at all old! And we're wearing pretty cool clothes! Don't you agree? It may take a 'few' pills to keep us healthy, but ...... we're still alive!
I hope you have, or are soon to get, your Covid vaccination - and stay healthy!
Remember, we've got a 50th+1 Reunion at the end of August. Really! Planning starts soon.
Official Web Site of
The Batavia (NY) High School
Class of 1965
Created October 5, 2014
Home Page Visitors since then
v2016.3
---