In Memory
Robert L. Flick (Science Teacher)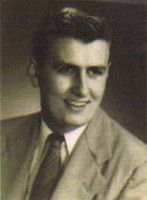 Robert L. Flick
January 15, 1926 - August 8, 1977
Robert L. Flick, 51, of 7 Norris Avenue, an instructor in the City School District for over 20 years, died at 12:40 p.m. Monday, August 8, 1977, at St. Jerome Hospital.
Mr. Flick was admitted to the hospital after he was stricken with a heart attack at his home Saturday. He had suffered a heart attack about 18 months ago.
A science teacher at Batavia Junior High School, Mr. Flick was born January 15, 1926, a son of Raymond A. and Marie Leichnicht Flick of Attica. He was a graduate of Attica Central School and earned his Bachelor's and Master's degrees at State University College at Brockport. He was an outstanding athlete and later well-known as an official at athletic events.
He was treasurer of the Holy Name Society of St. Joseph's Church and a member of Batavia Elks Lodge; New York State Soccer Officials Assn; New York State Baseball Umpire Assn and the Notre Dame High School Sports Boosters Assn. During World War II, he served with the Army Air Corps.
Surviving with his parents are his wife, Faith Kornprobst Flick, a son, Michael and three daughters, Marcy, Cathy, and Ann, all at home, and a sister, Ms. Rita Schwanekamp, of Pittsburgh, Pa. He was a brother of Paul Flick, who died in 1974. Services were today at St. Joseph's Church, Interment was in St. Joseph's Cemetery.
Memorials may be made to Notre Dame Scholarship Fund.
Arrangements were completed by the Bohm Mortuary.