Batavia

High School




Class Of 1965
UPCOMING BIRTHDAYS


Since we published the 50th Wedding Anniversary of Liz (Johnson) and Jim Conway this summer, several more of you have notified me of your own 50th Anniversaries. In the 'November Issue' of the BHS Class of '65 (this website), I will honor those additional couples celebrating 50 years of wedded bliss.
In the meantime.....
HAVE YOU MADE YOUR PLAN FOR VOTING?!
Early voting begins in New York State this Saturday, October 24th.
Many of you live in different states with different dates and procedures (surely you all have registered by now!). Check with the local Board of Elections for your City or County (Google the League of Women Voters) to find out when and how to cast your Ballot - early in-person (when and where), absentee drop-off (where to drop off), mail-in (last date to be postmarked), and in-person November 3rd (where, many places have changed polling locations to ensure proper social distancing).
(NOTE: If voting Absentee, make sure you SIGN everywhere you are supposed to sign, a signature like you always use (no time to be cute), have your Ballot WITNESSED, and SEAL THE INNER ENVELOPE with the ballot in it!)
Remember, this is more than just 'Top of the Ticket' - this is about State and local elections, those offices that effect your community! There may be Ballot Questions too. League of Women Voters have detailed guides about what's on your Ballot.
Whatever your local conditions are due to the chronavirus, your own health, forest fires, floods, there IS a way to VOTE.
MAKE A PLAN, AND DO IT!
and
VOTE LOVE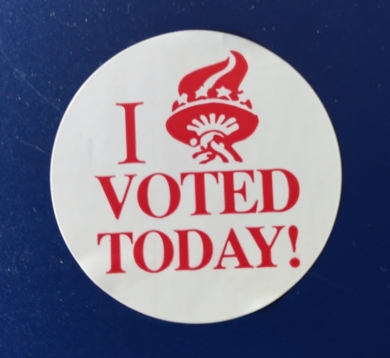 Have you?
It's how many days until our Reunion??
309
We're finally less than - just over a year away. Save the date!!
Official Web Site of
The Batavia (NY) High School
Class of 1965
Created October 5, 2014
Home Page Visitors since then
v2016.3
---