Batavia

High School




Class Of 1965
UPCOMING BIRTHDAYS


Finally! Something to celebrate!
On August 1 Elizabeth Johnson and James Conway (Liz and Jim) celebrated 50 years of wedded bliss!
Feted by their families a number of classmates were in attendance - can you put names to the attached faces??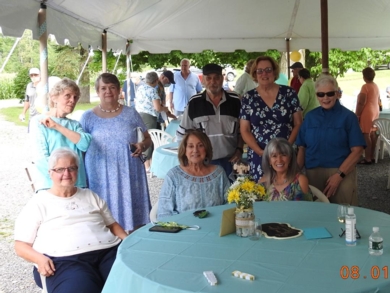 So, who else has been married 50 years (to the same person!). I know, admitting having been married 50 years makes one seem old. Come on, we're ALL that age, and look at how well we aged!
________________________________________________________________________________________
It's how many days until our Reunion??
385
We're finally less than - just over a year away. Save the date!!
On Saturday, August 28, 2021, we will meet for our 55th+1 Class Reunion, this year's 55th Reunion having been canceled. We will enjoy a happy hour and have a buffet dinner. We will keep you posted.
Take Care,
Liz, Paul and The Class of '65 Reunion Committee
And please, email us to update changes in your contract information or life changes, or if you hear of the loss of another one of our Classmates.
Official Web Site of
The Batavia (NY) High School
Class of 1965
Created October 5, 2014
Home Page Visitors since then
v2016.3
---