Batavia

High School




Class Of 1965

Look at all the birthdays coming up! Let's celebrate them while we still can! Drop them a note on their birthday (right from this website).
And let us never forget the words of the immortal philospher Satchel Paige: "How old would you be if you didn't know how old you are?"
(.....and for you 'folkies' - Emmylou Harris turned 72 in April! See, we're not that old whatever you may think!)
And on the other hand, let us remember....
Lynn L. Johnson, 73, of 224 S. Meadow St., Watertown, passed away March 20, 2019 at the Samaritan Medical Center, surrounded by his loving family.

He was born on December 31, 1945 in Batavia, NY, son of Lynn and Eleanor Warren Johnson. Lynn graduated from Batavia High School in 1965. Following school he entered the US Army on September 3, 1965. He served in Vietnam and received the National Defense Service Medal, Vietnam Service Medal and Vietnam Campaign Medal. He was honorably discharged on August 30, 1968.

Upon his discharge he returned home and became a NYS corrections officer. He worked at the Watertown Correctional Facility, Attica Correctional Facility and retired from Cape Vincent Correctional Facility in 2000. While an officer at Attica Correctional Facility he was a hostage during Attica riot.

He married Mildred I. Eiholzer of Morrisville, NY, on April 16, 1987 in South Carolina. The couple resided in Watertown.

Mr. Johnson was an avid hunter and fisherman and loved spending time with his grandchildren.

Among his survivors are his loving wife, Mildred I. Johnson, Watertown, two daughters, Jaimie Kramer and her fiance Bill Knapp, Hamilton, NY, Tricia and Jeff Zehr, Lorraine, 12 grandchildren, a sister, Sheila Mulwane, Bainbridge, NY, and several nieces and nephews.

The Funeral Service at the funeral home included honors from Cape Vincent Correctional Facility Honor Guard. Entombment with military honors took place May 17th at the Gerald B.H. Solomon Saratoga National Cemetery.
Online condolences may be made at www.hartandbrucefh.com
And this is why we come to Reunions!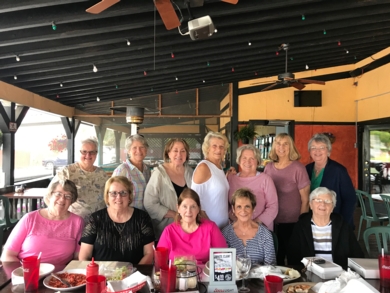 Thank you 'Ladies Who Lunch' - you all look lovely!
Saturday
August 29, 2020
Save the date!

OK, for those of us with failing eyesight - here's a bigger version for you to identify who's who!
Still looking for information on the recent passing of Jeanette Arras (Ladley). If you have any information (dates, where they lived, family, donations) please pass them along and I will post. It's always nice to let family know that we are aware and share a note of condolance..... and of course share your stories about each one on this website!
Official Web Site of
The Batavia (NY) High School
Class of 1965
Created October 5, 2014
Home Page Visitors since then
v2016.3
---